Since 1943 Mirka has been producing high quality sanding tools and abrasives. Based in Finland they are renowned within the automotive and carpentry world for their dust free sanding solutions that help to produce a clean and safe working enviroment.

Mirka is expanding its power tools range with the addition of the first small, brushless, battery-driven, spot repair, cordless sander that have both orbital and random orbital movements. The new AOS-B 130NV sander is suitable for multiple sanding operations including finessing, Corian® sanding and E-coat and primer sanding applications, producing a high quality, consistently smooth finish, maximising productivity.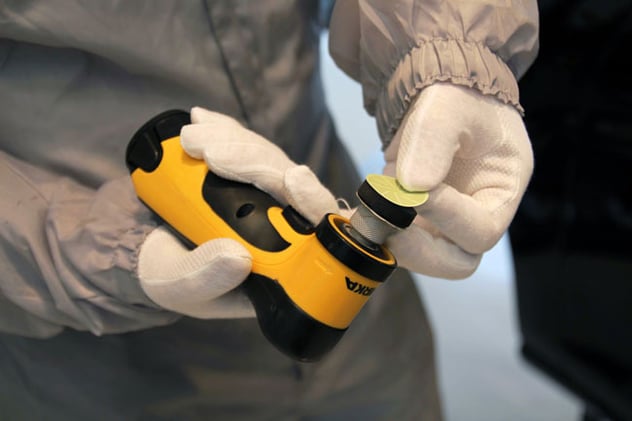 Above: The Mirka AOS-B in action.
---
The AOS is powered by a Mirka BPA 10820 battery pack, which has a full charge time of 45 minutes, reducing tool downtime and increasing efficiency. When fully charged, it provides the user with economical and consistent performance for the duration of the sander's battery life, which can last up to 16 hours when used for spot repair applications within the automotive industry depending on the amount of spots being sanded.
The RPM on the sander can be adjusted in steps from 4,000 rpm up to 8,000 rpm and, if required, can be locked to prevent accidental rpm changes. The easy-to-use trigger system stops the sander when the fingers are removed from the trigger, but it will continue to stay in an active mode for a short time before it automatically shuts off.
The tools' lightweight design allows them to be moved easily from job to job for more efficient use of the workspace available, while their compact ergonomic design provides users with a comfortable grip that will enable them to operate the products for a long period of time, while delivering good control over the sanding process. The low noise and vibration levels reduce arm fatigue, minimising the risk of Hand Arm Vibration Syndrome. Their innovative features also include an easy attachment for the backing pad with the help of a 'quicklock' system, resulting in less downtime when changing abrasives.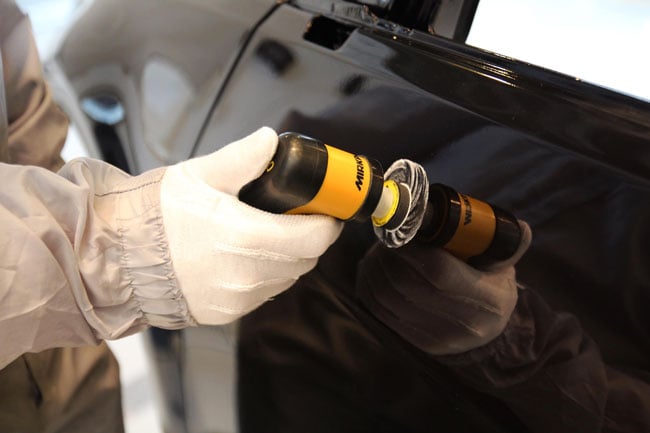 Mirka cordless tools come with the Mirka 2+1 year warranty. They are packed in a cardboard box as standard and include a sander with a battery inserted; a spare battery; a charger and two quicklock backing pads: PSA Hard (mounted on the machine) and Grip Soft.
Craig Daycock, Managing Director of Mirka UK, says, "The AOS is part of our continued investment in a tool range that customers can rely on to deliver the highest quality, most convenient solutions for spot repairs and a multitude of other sanding operations. While they are small, the tools have a big impact, providing the consistent finish our customers have come to expect from us."
To find out more about the Mirka AOS-B sander click here >